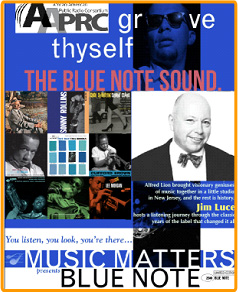 28 Jan

The Blue Note Sound Modular Series

Hosted by Peabody Award winner, Jim Luce.
The Blue Note Sound modular package contains content building blocks (narrative and classic recordings) around which stations can create a special program or an on-air fundraising special. It includes 12 stand-alone program modules. Segments are 5-18 minutes long, featuring one or two classic recordings per module, with brief, insightful narrative.
Horace Silver: "Bonita" 10:37
Dexter, Herbie: "You've Changed", "Driftin'" 15:34
Freddie Hubbard "Arietis" 7.07
Hank Mobley: "No Room for Squares" 7:47
Thad Jones: "Billie-Do" 8:36
Herbie Hancock: "Dolphin Dance" 6:53
Freddie Hubbard Horace Silver: 6:53
Joe Henderson: "El Barrio" 7.07
Herbie Hancock: "Riot" 7:54
Cannonball Adderly: "One for Daddy-O" 6:34
Lee Morgan: "Ceora" 7:45
McCoy Tyner "Passion Dance" 18:32