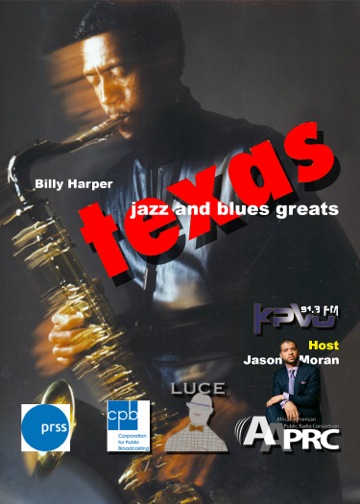 18 Jan

Texas Jazz & Blues Greats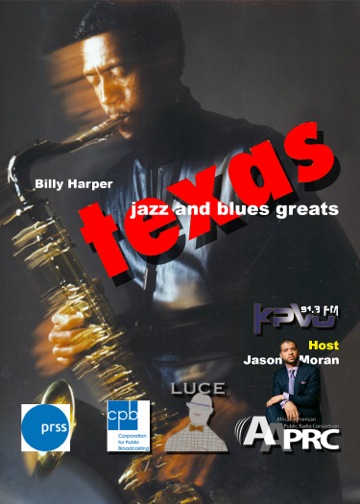 Hosted by Jason Moran
Texas gave the world T-Bone Walker, Lightnin' Hopkins, Big Mama Thornton, Joe Sample, David "Fathead" Newman, Illinois Jacquet, Bobbi Humphrey, Sly Stone, Stevie Ray Vaughan, Esther Phillips, Joe Tex and many, many more. KPVU (at Prairie View A&M University) wants to tell us all about them! The station teams up with The Luce
Group and the African-American Public Radio Consortium to produce the first installment of a comprehensive music documentary that is sure to fascinate listeners nationwide.
Texas Jazz & Blues Greats is hosted by jazz pianist and composer Jason Moran, a Texas native himself. Moran was recently tapped to be the Creative Director at the Kennedy Center for Performing Arts after the passing of Dr. Billy Taylor, and was the recipient of the 2010 MacArthur Fellowship. A student of the blues, Jason's virtuoso
performances marries classical, blues, and jazz with the musical influences of his generation including funk, hip-hop, and rock. The Texas Jazz & Blues Greats project was right in his sweet spot!This two-hour special covers a wide range of artists – connecting the dots between jazz, blues, funk and soul music. Hour 1 includes Sly Stone (yes, funk is in the family!), Big Mama Thornton, Joe Sample, Blind Lemon Jefferson, Joe Tex, David Fathead Newman and King Curtis.Hour 2 includes Billy Preston, IllinoisJacquet, Esther Philips, Leadbelly, Bobbi Humphrey, Billy Harper, Albert Collins, and Stevie Ray Vaughan. All are sons and daughters of Texas.
This production is another Consortium-Station-Producer collaboration that marries public radio's commitment to raise the profile of America's original music genres, with insight into the culture, social dynamics and creative individuals that gave birth to them.