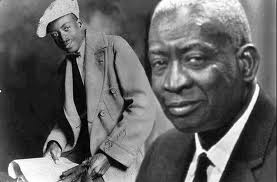 18 Jan

Gospel Greats Hosted by Cyrus Chestnut

Thomas A. Dorsey, The Father of Black Gospel Music 
We're pleased to present to public radio a 3-Part Special, Gospel Greats – a production of KPVU in Prairie View, Texas, The Luce Group and the African-American Public Radio Consortium.
Gospel Greats is hosted by pianist Cyrus Chestnut, a respected jazz pianist hailing from Baltimore, and graduate of the Berklee College of Music.
Gospel music has been a tool to keep the spiritual faith of African-Americans close and accessible. Gospel music rose to levels comparable to popular music in African-American culture because it was a source of healing, power, courage, and inspiration in the face of the most horrific of human experiences. As history has recorded, the Civil Rights Movement gained its momentum in the black church.
Today's Modern Gospel has evolved into a distinct art-form as musical legends incorporated the popular music of their day (i.e. Blues, soul, jazz and hip-hop) into Gospel performances, making the message accessible to each new generation. In some cases, Gospel hits lived for months at the top of Pop Charts and Gospel Charts simultaneously.
Gospel Greats shares the stories and music of some of the artists who have had the greatest impact on the evolution of the art-form. The span of the show is broad, covering composers (like Thomas Dorsey, the Father of Gospel Music), soloists (like Mahalia Jackson), quintets and quartets (like The Caravans, The Clark Sisters and The Williams Brothers) and those who have orchestrated great choirs to blend in new urban sounds (like James Cleveland, Edwin Hawkins, Andre Crouch and Kirk Franklin).
Peabody Award-winner Jim Luce is the writer and Producer of Gospel Greats.

Gospel Greats – 3 Hour Special Program
Hour 1: Thomas Dorsey, James Cleveland, Edwin Hawkins, Mahalia Jackson.
Hour 2: The Caravans (including Albertina Walker, Shirley Caesar, Inez Anderson),
Bebe & Cece Winans, The Clark Sisters, Hezekiah Walker, Donny McClurkin
Hour 3: Sister Rosetta Tharpe, Andre Crouch, Kirk Franklin, The Williams Brothers
Each Hour is Produced to be Aired Either Separately, or Consecutively

Host: Cyrus Chestnut